Welcome to "The Sparkle Spot: Your Guide to Making Any Event Sparkle"

I'm so excited to be launching my own business and I hope I will have your support for all things sparkling! Ever since I can remember, I've always been into party planning. Back in the day it wasn't all so formal but the requests were, "Ebony I need you to do this party for me" or "Ebony what do you think about this?". This is how it all started. After getting married in 2004 I have played around with the idea of becoming an event planner and invitation designer but never had the "guts" to do it. I came very close in 2005 but however I became pregnant with my first daughter and completely turned my undivided attention to my family. After much thought and prayer and support from my beloved family and friends, especially my hubby, I'm stepping out on faith to follow my passion!

My philosophy is that you don't have to be rich to have a wonderful event. Everyone watches Platinum Weddings and wonders.... how can I get that! Guess what, you would be surprised at how creatively you can pull off a fantastic event that would rivel those of the rich and famous! I'm here to help my clients achieve all of their desires. Vist my website for more information about SED!

So with that my first post is dedicated to my arch nemesis right now (because I'm on a diet), the Cupcake! Many of my friends know about my cupcake addiction (borderline obsession) and I admit that I am a bit of a cupcake snob but what is not to love about the delicious personal size cake topped with decadent icing. Over the past fews years, the cupcake has made a seriously comeback, although it never ever left my heart. Looking for an economical alternative to a birthday cake or a wedding cake, try a cupcake tower with a beautiful assortment of cupcakes. I read on one blog that the cupcake was sooooooo 2009! Well, I'm here to say... NOT! Cupcakes are here to stay and getting better and better by the year :)

Some of my favorite Cupcakery's in the local DC/MD/VA are:

Georgetown Cupcake
- Located in the heart of the District of Columbia these cupcakes are so decadent they leave your mouth watering for more.
Cupcake Actually
- Located in Fairfax, Corner, the ever changing menu and the flourless chocolate cupcake will keep you going back again and again.
Cake Love
- Located all over the area started in D.C. These can be tricky but you must must must let the cupcake set to room temparture to devour and then the icing is scrumptious...
Feast your eyes on these!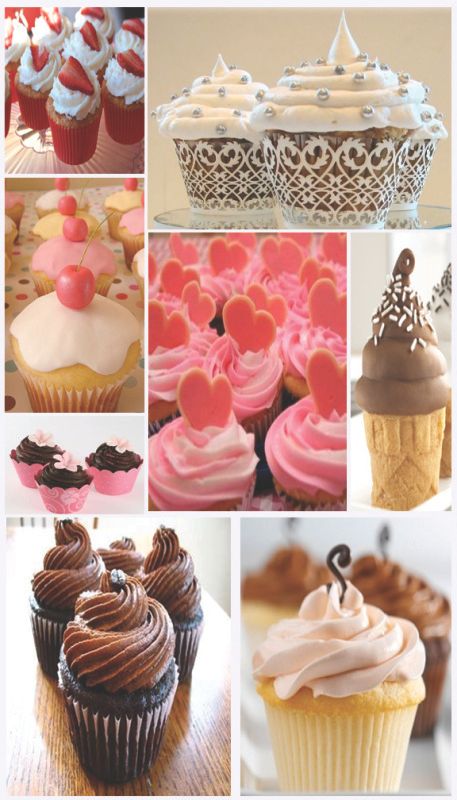 .................................................